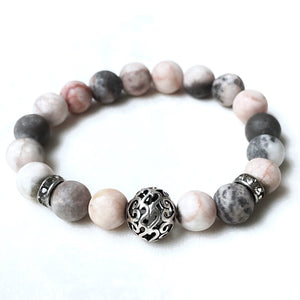 Pink Zebra Jasper embodies positive vibrations that nurture, balance and protect, so that you may find joy in your environment and dare to dream big.
Features:
Genuine Pink Zebra gemstone accented with sparkly gemstones
8mm matte beads
Sterling Silver Hearts bead 
High quality stretch chord for easy slip on and off
Hand made in Toronto
Size 6½  inch 
Not your size? Contact us for a Custom Order!